The Purpose of Automobile Judging
We judge our Packards, not merely to reward the efforts of those who restore and maintain their automobiles, but because judging serves essential roles in educating the Packard enthusiast and preserving the extraordinary standards of the marque.
Note: None of the mechanical features related to the operation of the vehicle, such as engine, brakes etc., nor any of the safety features, such as lights, horns, etc., nor any of the storage compartments, such as trunk, glove box, etc., are judged.
Regarding the first two, Packards International (PI) prides itself on being a driving club; most of the cars that appear for a PI judging event are driven. We feel that the owner of a Packard is a responsible motor vehicle owner that will not drive an unsafe or unroadworthy car. By their very presence at the event, these features of the Packard are judged to be satisfactory.
Regarding the latter issue, in as much as Packards are generally driven to P.I. judging meets, as a courtesy and convenience, we believe the owner has the right to store his personal belongings and requisite detailing equipment some place on the car without fear of detracting from his overall score.
Authenticity and cleanliness are emphasized.
Originality is by no means discouraged, so long as it is not an excuse for shabbiness or neglect. Restoration must be authentic and executed to meet the highest standards of craftsmanship. Point awarded for "Elegance" or "Sport Motif" are a happy reminder of the very origins of concours d ' elegance, when esthetic qualities, not only "white glove" sterility, of a motor car were considered. These points are dispensed by no mere whimsy of subjectivity. Each vehicle is carefully evaluated to determine where that model, its authentic color scheme and selection of accessories, etc., would fit into the spectrum of elegance (or sportiness) in the context Packards offered that particular model year.
Packards International Motor Car Club Judging Procedures
The following are the judging guidelines used by Packards International. Each of the eleven categories are explained in detail.
The combined total is 250 points.
Packards shall be judged as they stand on the field. When judging begins, there shall be no further detailing or preparations of the cars.
The head judge is most important. He must be knowledgeable in all areas and handle disputes accurately and with diplomacy. The head judge's word is LAW. If he wishes to demur on a dispute, this can be sent to National Headquarters for the final decision. This also gives him an "out" if he prefers not to make the final decision. There should be a judging meeting immediately prior to the event at which time the judges should be announced for all the various categories. Also, all items must be discussed for the overall benefit of all judges so they can perform in accord
and with accuracy.
A discussion of all categories follows herewith.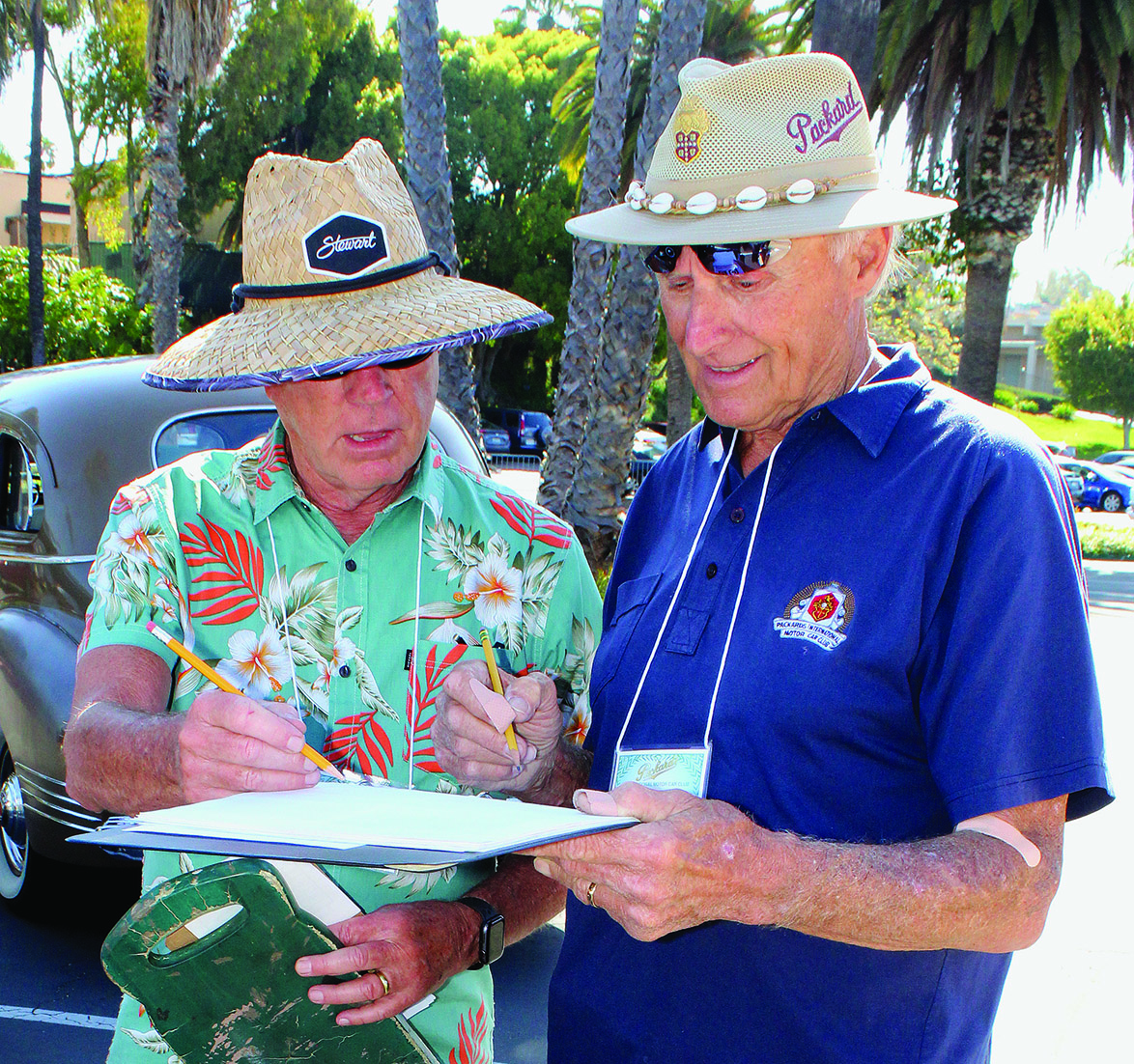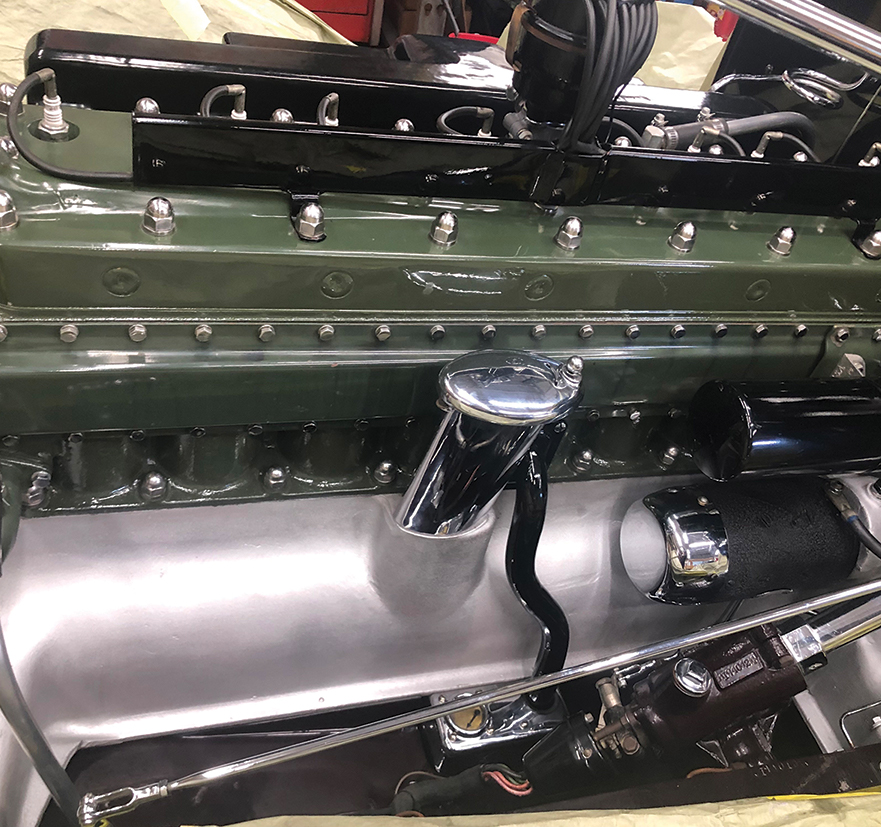 CLEANLINESS is all important. All areas must be refinished perfectly and in proper color. Watch for radiator to grille pans, electrical boxes, carburetor and air cleaner, proper engine, underneath hood, cowl, splash pans, filters – everything. Look down and up as well as mid-areas. Examine wiring and connections. Take notice of cooling system as to radiator, molded hoses, clamps and heater. Be sure all components are authentic; this includes grommets, air conditioning, overflow tanks, hoses and proper wiring. All available decals should be on the engine components. The manifold should be neat, clean, and free of rust. Appearance should be as nearly original as possible.
We will accept refinishing in flat black. Porcelain manifolds should be re-porcelainized. The 1955 and 1956 intake manifolds should be of the correct engine color. ENGINES WILL BE STARTED FOR OPERATIONAL CHECK.
These are probably the roughest of all categories as they are personal opinions. This is why we have several judges for this category. The top models of all years are important such as 12s, Patricians, or 180s. For example, a 1937 12 sedan will receive a couple more points than a 1937 Super 8 sedan in exactly the same condition. Body style is important. Town cars, limousines, or convertible sedans score the highest. A club sedan is a little more elegant than a touring sedan. The ultimate would be a custom bodied Town Car Of the top series and in proper color. It would receive 25 points. Color is very important. A dark blue Patrician would receive considerably more points than the same car in pink. Color can enhance or detract from any car. Good taste is a must. The color that enhances one car and/or shape doesn't enhance another. Conception of design is also important. Some custom bodies are poorly proportioned while others are sensational; therefore, all custom bodied cars are not necessarily high points in elegance. We agree it is difficult but is manageable and by averaging several judges' opinions the outcome should be quite accurate.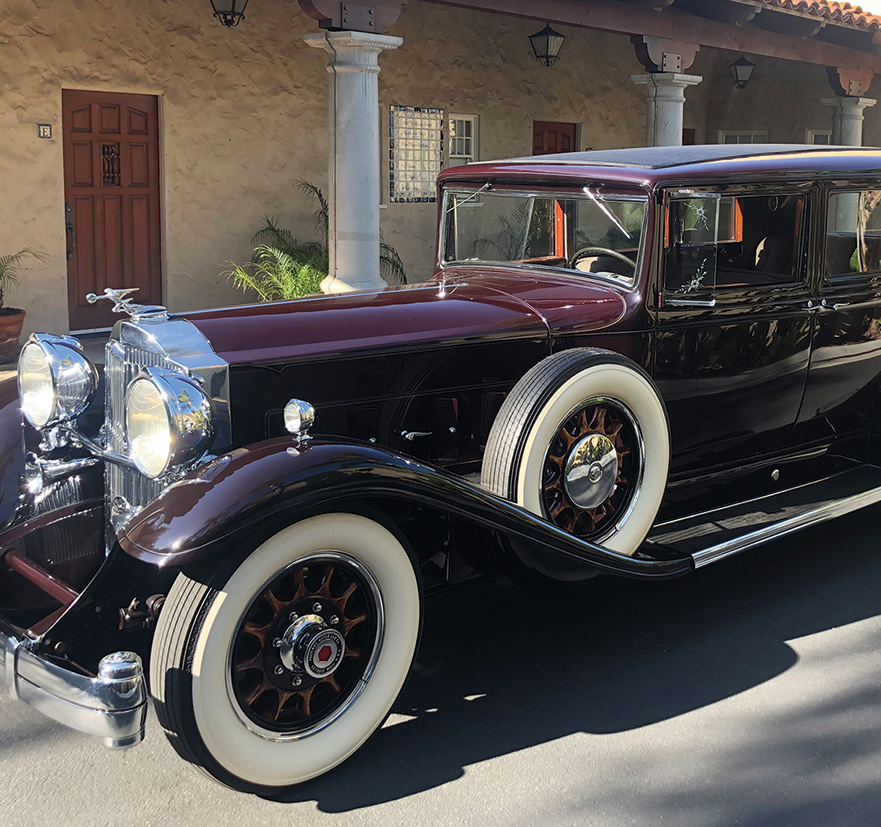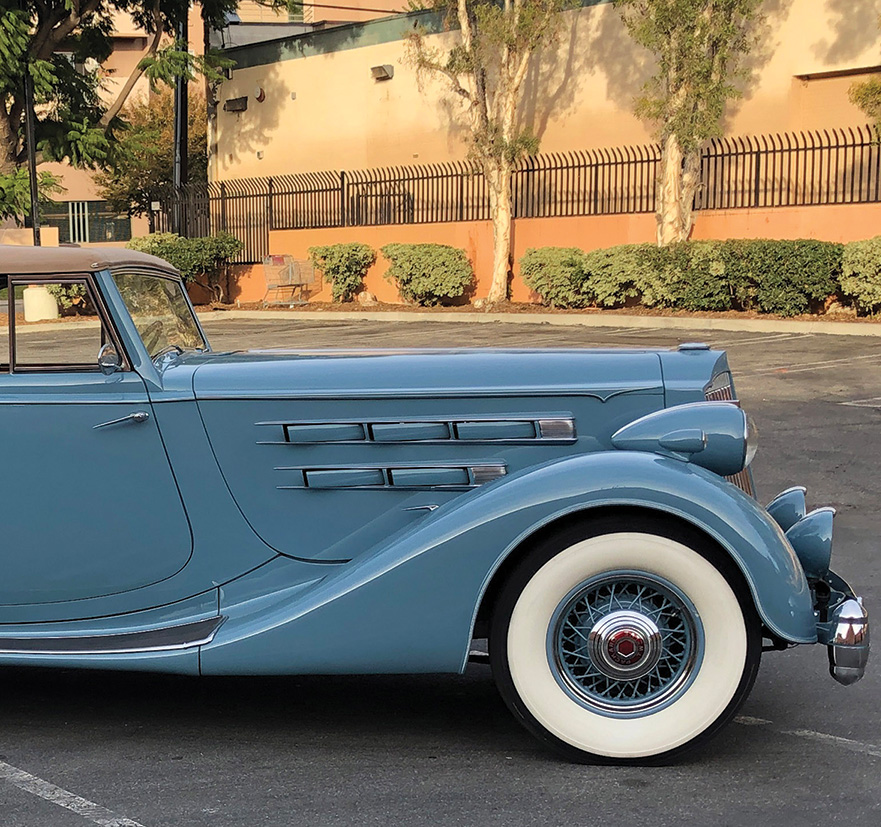 Sporty Packards are regarded as being as important as elegant Packards. A Packard twelve dual cowl sport phaeton in proper color would receive 25 points and would easily out point a 110 convertible coupe. A boat-tail speedster or an early super 8 roadster could also achieve full points, whereas a Mayfair or a 120 sport coupe will not. Color, good taste and conception of design are taken into consideration as they are with Elegance. This category like Elegance should be judged by several judges.
The following formula should be used:
1957-58 …………….1 point
1955-56 …………….2 points
1953-54 ……………..3 points
1951-52 ……………..4 points
1948-50 …………….5 points
1946-47 …………….6 points
1940-42 …………….10 points
1935-39 ……………..11 points
1932-34 ……………..12 points
1931 & older …….13 points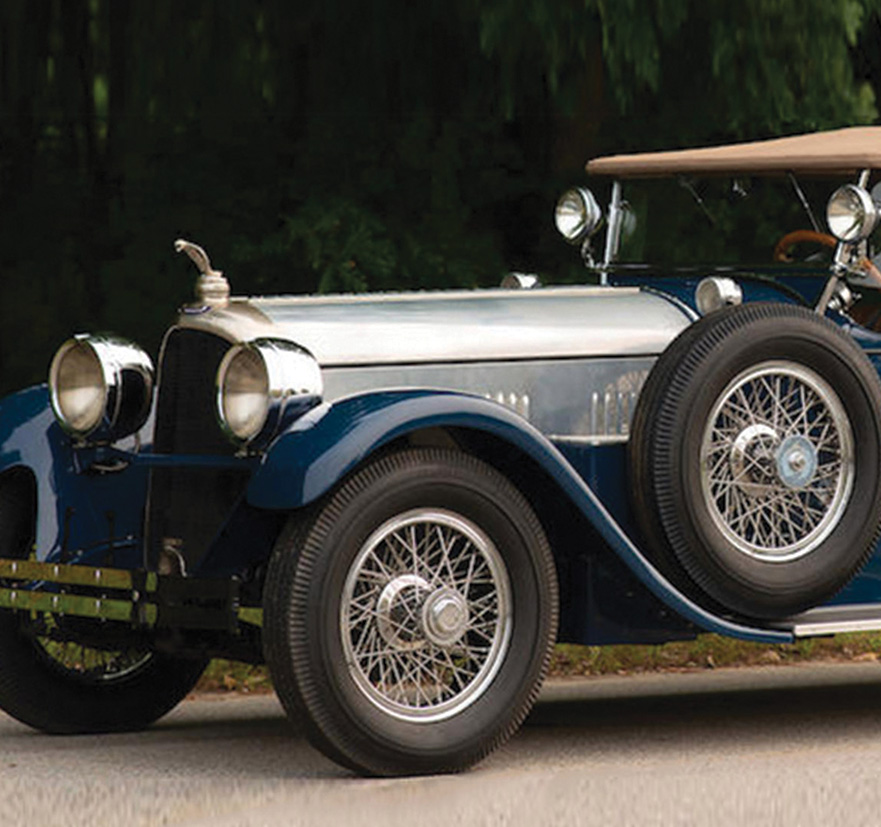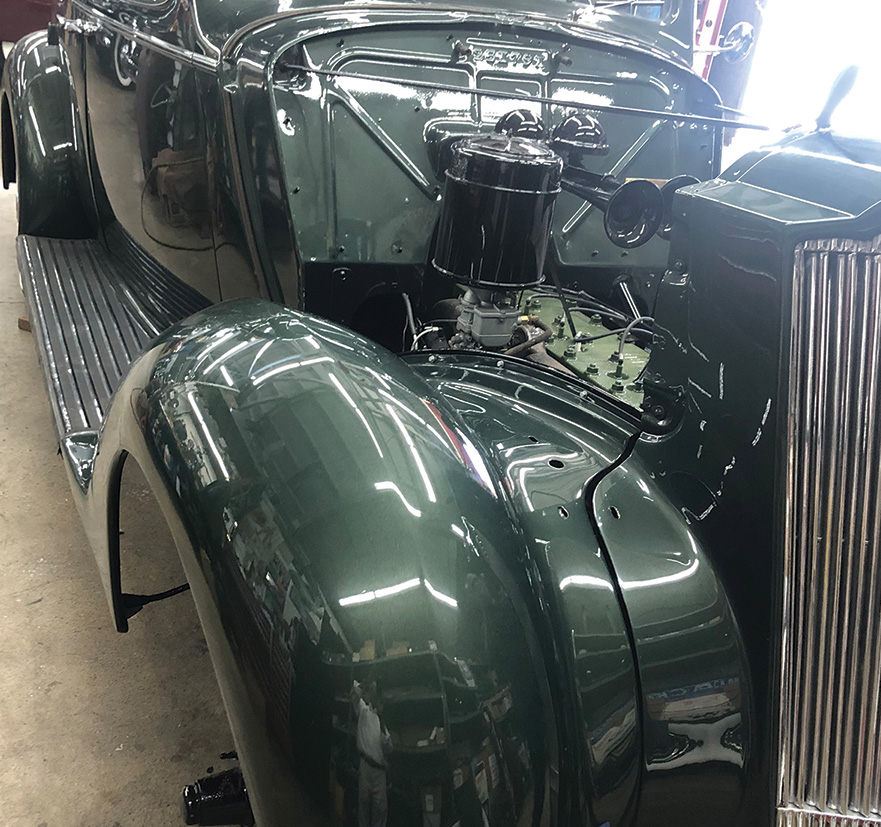 Cleanliness, authenticity, great depth of color and a highly waxed finish are the by words. Enamel, orange peel, runs, crazing and scratches are not tolerated. Pin striping should be correct for the year and model. A superb paint job but with a few nicks properly touched up is not marked off. An original paint job carefully maintained is more generously judged than a new paint job with minor flaws. Hard judging here is proper.
Perfect body work is a must. Sight down panels from an acute angle to see waviness, dents and imperfections. Examine door and hood fits. They are difficult but necessary for high points. Doors sometimes fit properly at the top and not at the bottom. However, remember some sedans do not have 90 degree corners at the bottom. Open the door and lift it to see if it sags because of bad wood. On prewar sedans, look carefully at the insert Top and particularly at the surrounding bead. Check weather-strip around all doors, hood and trunk lid. Also the bead between fenders and body. Look for improperly done running boards in regard to covering, molding, bead and trim. Look at rubber grommets on all components. Painted areas over deep sandpaper scratches or over old areas not stripped of all paint will get a deduction in both categories. Convertible tops are critical inside and out, including the rear window. Folded areas from having the: top down will get hurt a little. All bows and top mechanisms must be carefully looked at as few are perfectly done. Look at the bead areas on edge and underside of fenders. Check jambs. Examine rubber moldings around windows. Be critical. Metal or fabric covered sidemounts and/or rear mounted spares are judged in this category.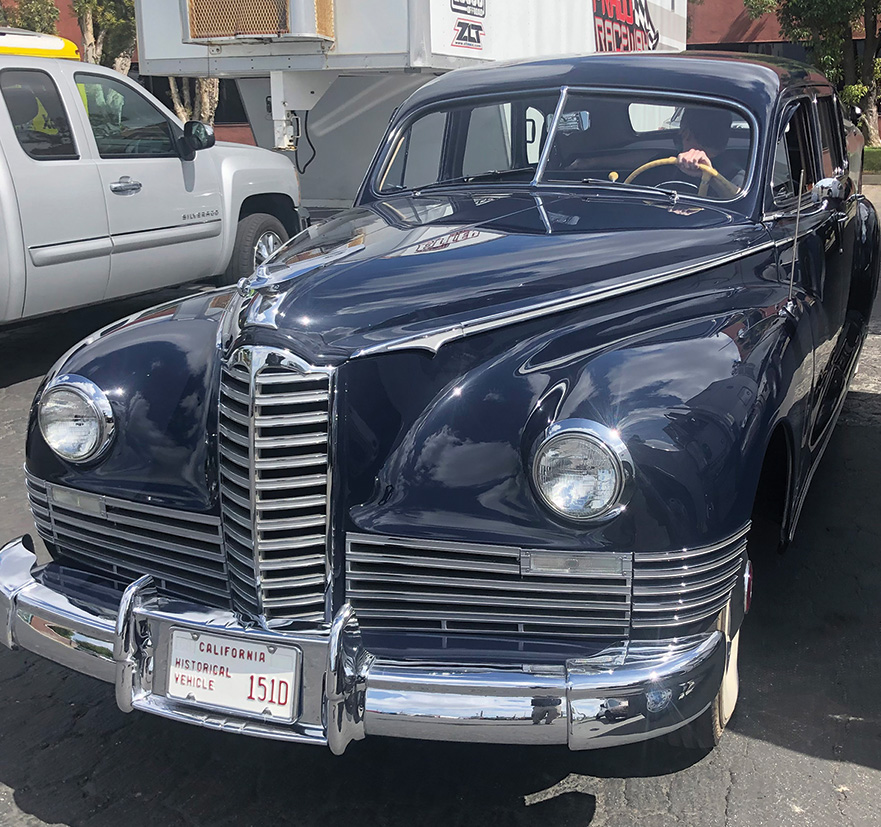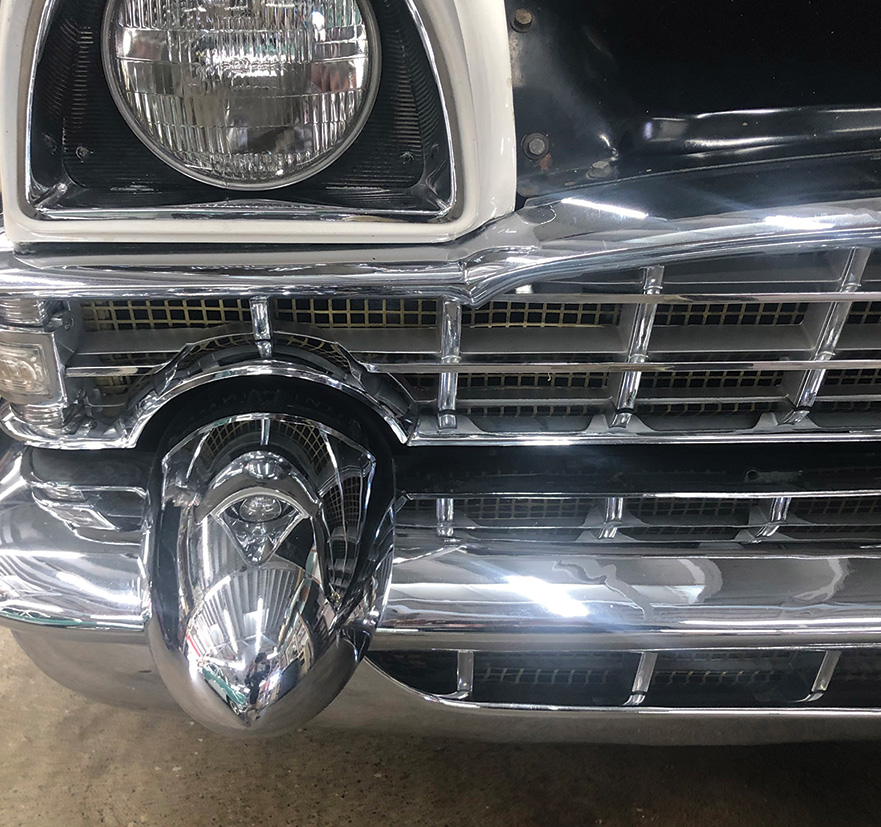 Cleanliness, again, is the key. The higher the finish, the better the product. An understanding of the re chroming process is an asset for the judge. Most diecast or pot metal items are nearly impossible to refinish perfectly. Deep pits cannot be ground out, and if the judge feels the item has been re chromed as successfully as can be done, no points are to be deducted. If an item is grotesque to the point that even the average "man on the street" would be aware of it, it should be scored accordingly. Nickel shadow is common but cannot be tolerated. Prominent areas, such as grille, shutters, bumpers, door handles, etc. should be in top condition. The backs of bumpers and other like items should be properly finished according to
the model of the car. Judges should look for discoloration and scale on the backside of exposed bumpers. This often occurs during the re chroming process but a neat appearance can be obtained by refinishing with a silver gray paint. Discoloring on stainless steel can be buffed out to a high finish also. Look for areas that are either ground down too far or not enough. Nuts and bolts should be properly refinished. The wheel covers, hubcaps, and all other brightwork on the wheels are judged under tires and wheels. Check door jambs and sills for chromed items. Glass must be clean. Each pane should be made of safety glass. Look for nicks and scratches either from bad wiper blades or over sanding marks which marred the glass areas. Also check for glass discoloration and bubbles from separation of glass, or broken glass. No tinted glass is allowed on pre-war cars. Leniency will be allowed for a minimal amount of sandblasting to the windshield due to normal driving of the car.
SEATS, UPHOLSTERY & KICK PANELS
That word, cleanliness, still is the by-word. Rule-of-thumb thinking: If it is original, leniency is allowed. By original, we mean no open areas with padding showing, cloth in good condition and clean, no frayed bead, etc. Some sagging at the driver's seat, some sun bleaching, and a little wear is allowed. Redone upholstery is critically judged. It must be in the correct material to the year of the car. Workmanship must be perfect with no wavy seams, loose thread, or looseness due to lack of padding. No plastic is allowed on older models. Look at bead, good fit, and check curtains and tassels. Carefully check moldings for poor wood-graining, poorly finished screws and sloppy work. Poor taste in upholstery selection as to quality and/or color can be deducted for both in this category and Elegance/Sport Motif. Seatbelts do not add to the showiness of the car. If utilized, they should be hidden during judging. If authentic seatbelts are displayed, they will be judged. No seat covers will be tolerated during judging.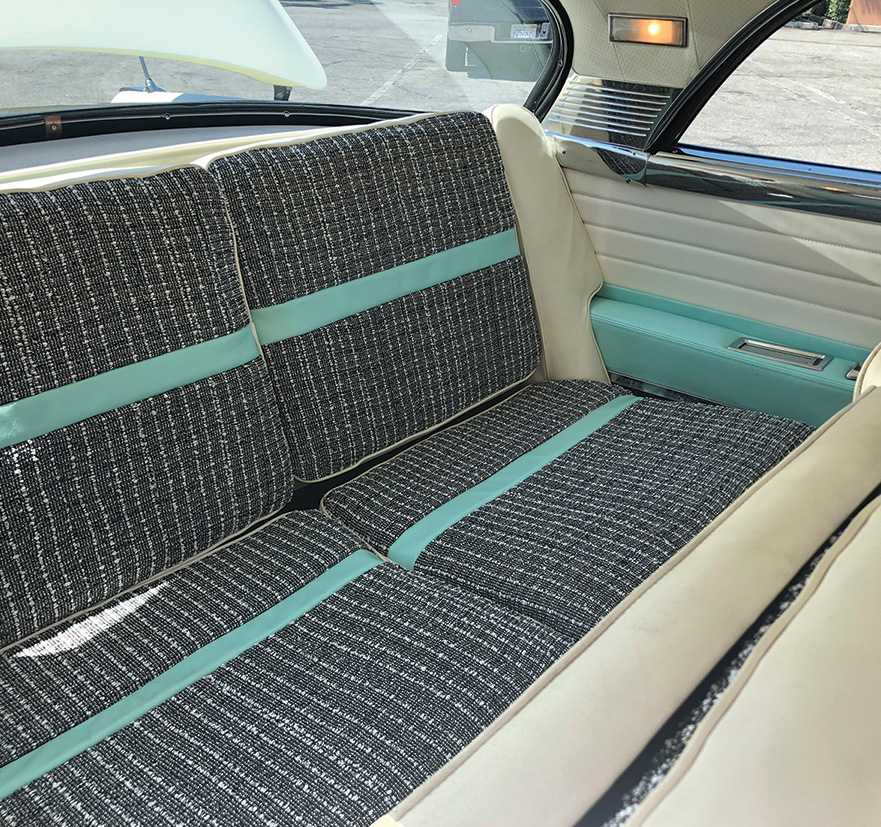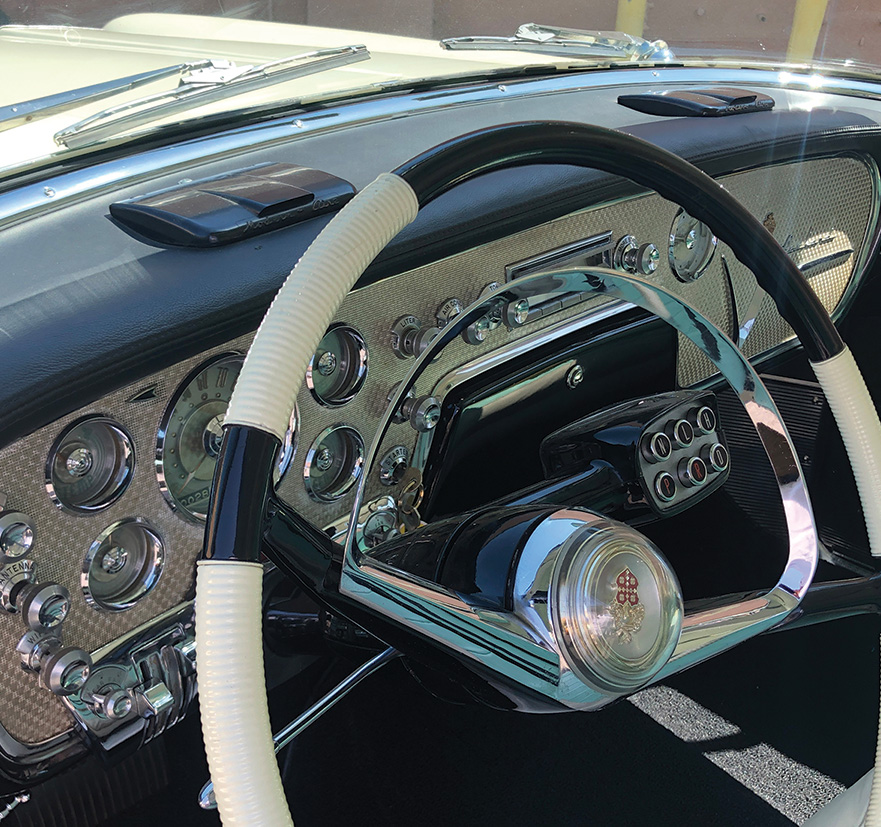 Cleanliness and authenticity are again most important. Wood-graining must be correct. Look at bezels and chrome as well as gauges. Check steering
wheels; wheel covers are not tolerated on steering wheels; and will be marked off. The steering column should be checked in its entire length down to the floorboard and should be in perfect order. Switches for all accessories must be looked at along with a cursory look under the dash at wiring, neatness, etc. The radio should be checked for power antenna, if so equipped. We do not check inside the glove compartments or ashtrays.
Cleanliness still is the byword. If it is original, leniency is allowed. Re-done carpeting is critically judged. Carpeting must be in the correct material to the Year of the car. Workmanship must be correct with no wavy seams, loose threads, looseness or shrinking of material. Firewall and foot pedals are judged under this category.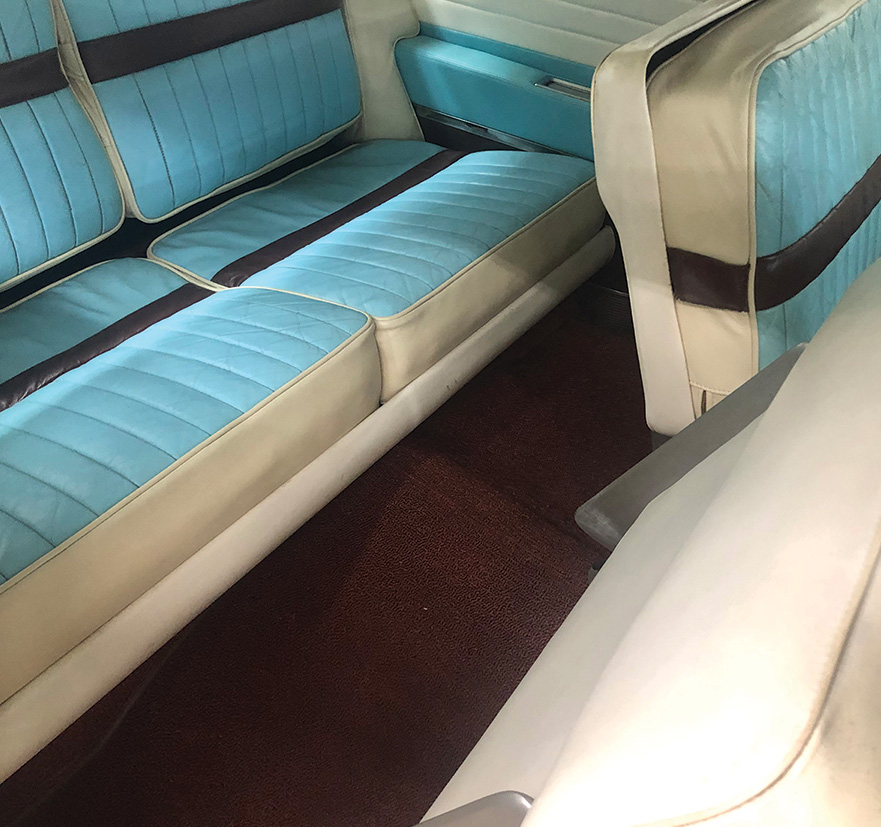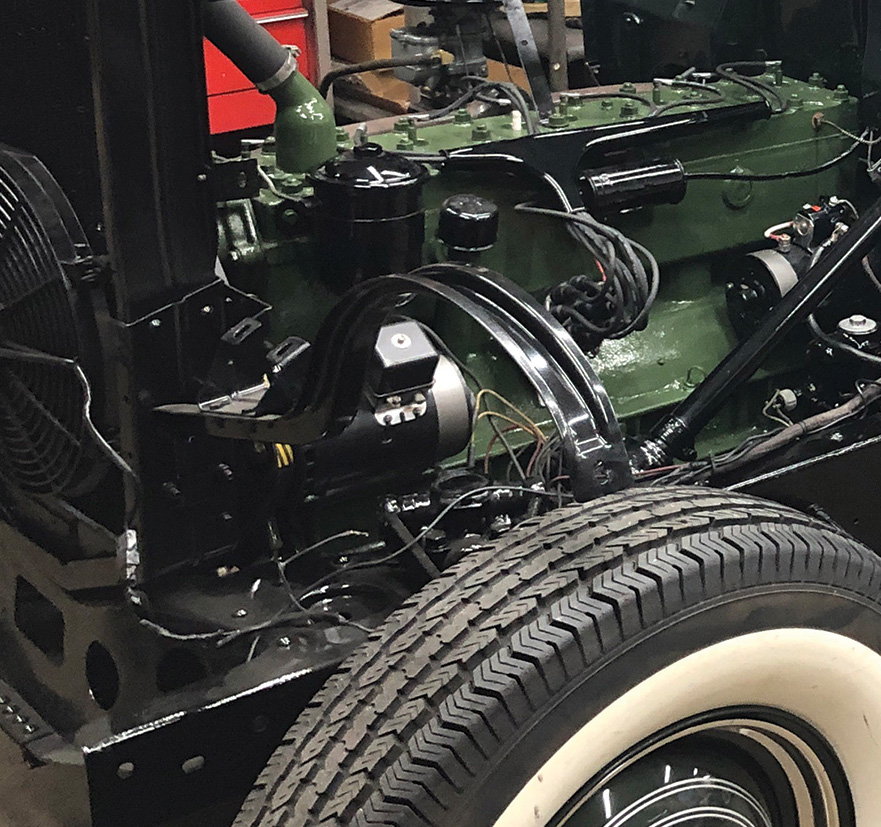 Since we pride ourselves on the fact that we drive our cars, we are not unduly fussy in this area. However, the chassis must appear to have been recently cleaned and refinished. We do look under fenders and observe what can be seen from one knee, but we do not get underneath the car on a creeper and examine every area. Pre 1935 cars must be better done in this area since so much of the chassis is visible. Undercoating is allowed from about 1940. Visible exhaust systems and tail pipes will be judged in this category.
All exposed wheels, tires, hubcaps and accessories shall be judged. Cleanliness and authentic equipment are significant. This shall include chrome, stainless, paint, striping, whitewalls and visible brake drums. Hubcaps must be properly painted in exacting manner. A safe amount of tread shall show on each tire. Sidewalls, valve stems and size are items of importance. Note that the fit of exposed spares is judged under COACHWORK.
Common sense does most of it. The general feeling is that if it is original, leniency should be allowed; if it is redone, judging should be critical. Cleanliness and fine detailing carry a great deal of weight.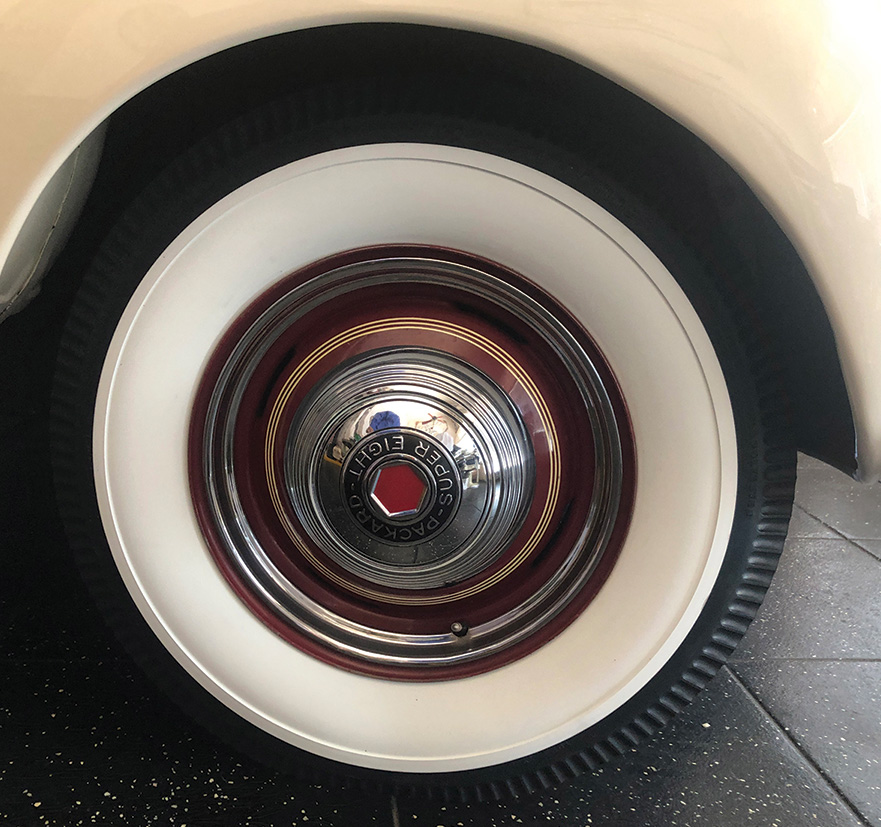 What color is the Road Draft Tube? What color is the Valve cover plate? How is the starter finished? Ever had questions like those? Packards International has started to prepare a full Packard Detail and Judging Guide. This guide covers the basic judging rules used by PI, with each category discussed in detail. The Guide will be supplemented as sections are completed. Currently the engine room section is over 50 pages. At this years PI Membership Meet the detail guide was used at a seminar and we have received so many calls asking for copies, that PI will offer this information in a three ring notebook for only $17.00 to it's members-postage included. Photos used, are Packard photos from service training manuals, dealer service areas, etc.. In other words no art work, no pre-production items and all photos are valid production cars. Order directly from Packards International.